Advantages of Containerised DG Sets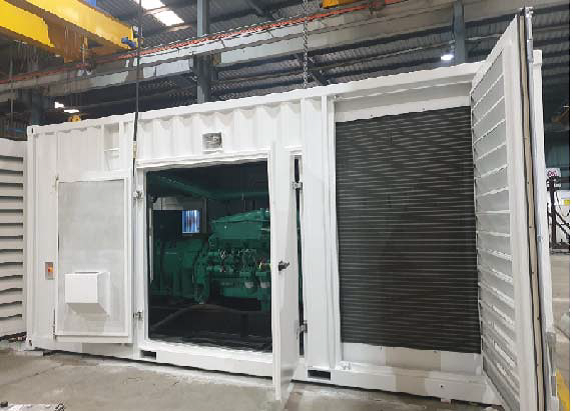 Plug & Play Module.
No extra cost for Installation (i.e., No piping, no foundation, no external silencer, no welding at Site).
Termination box and cabling are already done in DG Set.
Properly fitted air goes inside the combustion Chamber, so better life for the DG Set.
High Resale Value
Electric Fan & Motor for better air cooling of Genset inside the container.
Less vibration due to electrically operated fan in place of a radiator-mounted fan.
Less space is required to place the D.G. Set as eventually is enclosed inside the 20 feet container.
Less space is required to place the D.G. Set as eventually is enclosed inside the 20 feet container.
No, Cabling is required between D.G. Set & Breaker Panel.
When D.G. Set is in ideal condition, we can stack one another. To reduce the cost of space required to keep these D.G. Set.
25% extra cooling capacity is provided in containerized D.G. Set.
A built fuel tank of 800 liters is provided with a provision of connecting outside the Fuel Tank.
Low noise level, so easily maintained by the operator.
Easily Transportable.
Quick Installation (can be put in operation with 8 Hrs. of placement at the site)